Frederick Arthur
is a vindictive and cruel ex-member of Ash's street gang, who allies himself with Golzine in order to usurp Ash. He was later stabbed by
Ash Lynx
to settle the scores in
Banana Fish
.
Appearance
Edit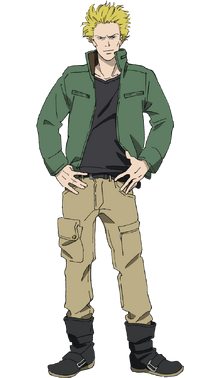 He is tall and has blond hair that he kept swept out his face showing his forehead and ears. He has thin eyebrows and narrow blue eyes.
He wears a black shirt underneath a long sleeved green jacket with a raised collar covering his neck. There are chest pocket areas on each side on the chest section of this jacket. His beige trousers, which had a large pocket area on the right thigh, were kept in place with a dark belt. He wears lower leg covering black boots with beige soles, these boots were fastened via straps with silver clasps.
Personality
Edit
He demonstrates a particularly cruel streak. Another sizeable aspect to his personality is deference to whatever Golzine asks of him.
According to Shorter Wong, Arthur begged to be taken in, going as far as to lick Golzine's feet.
Arthur decided to fight Ash Lynx for hometurf and to become a gang leader. But ever since Arthur's fingers got sliced by Ash Lynx, Arthur has lost the ability to hold a gun and instead uses his knifes to fight.
Relationships
Edit
He aspires to be gang leader and nurtures a vendetta against Ash for what he did to his fingers.
He comes to take orders from Golzine in order to acquire power for himself and enact vengeance against Ash.
Arthur likes to refer to Eiji as "Samurai Boy." He kidnaps him and has perceived Eiji alone as a weakness for Ash as he's seen he cares for him.
Etymology
Edit
Episode Appearances
Edit
Magazine Cover Gallery
Edit
Anime Gallery
Edit
Manga Gallery
Edit
"1" ― 2